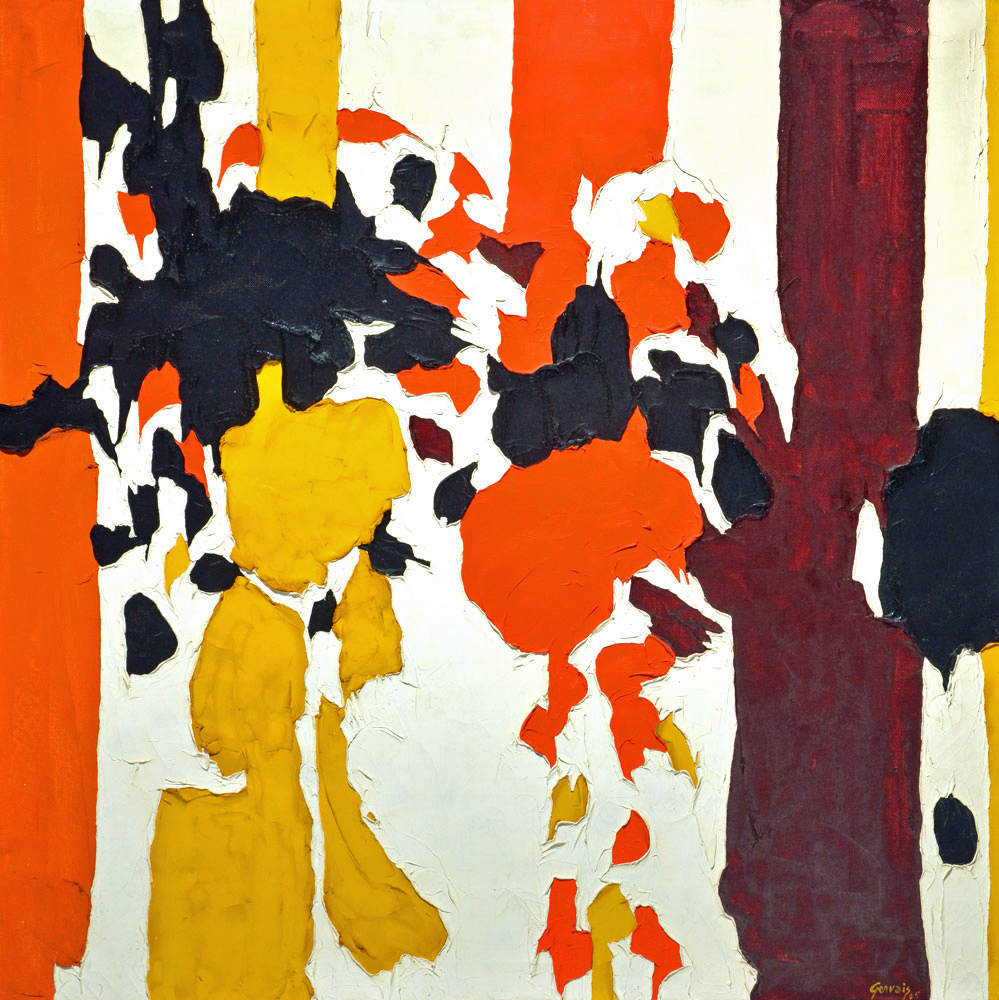 Lise Gervais ( 1933-1998 )
"DOUCE BLANCHEUR AU NOIR SE MARIE"
Oil on canvas, signed and dated, 1965
101.6 x 101.6 cm, 40 x 40 in.
Provenance:
• Private collection, Montréal, PQ.
Dorothy Pfeiffer, in the Montreal Gazette (April 18, 1964 p. 8) describes Gervias paintings on exhibition at Galerie du Siècle:
As far as verve and non-figurative flair are concerned, the most exciting exhibition in town at the moment would appear that of paintings by well-known Montreal artist, Lise Gervais.
Her large, heavy-with-paint expressions practically leave the viewer breathless! Yet in spite of the amount in pounds of paint laid on her canvases, Miss Gervais manages to suggest dimensions of space, depth, transparency, texture and movement with are remarkable.
Hers are paintings impossible to describe. They must be seen and 'felt.' From several one gains a feeling of being blown along by a gusty breeze, as I did when observing her brocaded "Virevolant".
From others one may hear the imagined blare or a circus brass band; or the four-four beat of a number sung by the "Beatles" and punctuated by ecstatic shrieks from an invisible audience.
In almost frightening omen, a violent painting of a red and black explosion has been titled "Québec 1964." Without its unfortunate title, I first reacted to this work as to the clang and clash of cymbals in a symphony by Stravinsky.
Other colorful, stencil like, paintings climb like exotic vines, or else soar like flights of birds of paradise. Everything moves, flies, rises, or flaps loudly in Gervais paintings. But nothing – absolutely nothing -flutters. In fact the, dominant note in her technique is 'power' a power both authoritative and invigorating.
Biography
Lise Gervais 1933 – 1998 studied painting at Ecole des beaux-arts de Montreal, with Jacques de Tonnancour and Stanley Cosgrove, and sculpture with Louis Archambault 1950 – 54. For sixteen years, she taught at Ecole des beaux-arts de Montreal, at Universite du Quebec at Montreal and at Concordia University. In 1983 and 1984, she was president of the Conseil des Artistes Peintres du Quebec. Her paintings are steeped in the traditions of Paul-Emile Borduas and the Automatistes.
Exhibitions
1961 Galerie Denyse Delrue, Montreal; Montreal Museum of Fine Arts
1964 Galerie du Siecle, Montreal; National Gallery of Canada, Ottawa
1967 Musee du Quebec; Art Gallery of Ontario, Toronto
1970 Galerie du Montreal; Musee d'art contemporain de Montreal; Musee Rodin, Paris
1983 Bishops University Art Gallery, Lennoxville, PQ
1990 Galerie d'Art du College Edouard-Montpetit, Longueil
2003 McIntosh Gallery, University of Western Ontario, London
Collections:
National Gallery of Canada
Montreal Museum of Fine Arts
Musee d'art contemporain de Montreal
Albright-Knox Museum, Buffalo, N.Y.
Concordia University, Montreal
Queen's University, Kingston
Hart House, University of Toronto
York University, Toronto
Samuel Zacks Collection, Toronto
Samuel Bronfman Collection, Montreal
Charles Delloye Collection, Paris
Universite de Montreal Collection
Musee d'art de Joliette