Image © Copyright Estate of Paul-Émile Borduas / SODRAC (2020)
Paul-Emile Borduas ( 1905-1960 )
"Sans titre"
Oil on canvas, ca. 1959
60.3 x 72.4 centimeters, 23 ¾ x 28 ½ inches
Provenance:
P. R. Sandwell, Vancouver.
Private Collection, Toronto.
Pierre Lassonde, Québec.
Exhibited:
Paul-Émile Borduas, Galerie Saint-Germain, Paris, May 20 – June 13, 1959. (possibly)
Borduas and America /et l'Amérique, Vancouver Art Gallery, Dec. 9, 1977 – Jan. 8, 1978. (addenda p. 52)
A Private Passion Modern Art in Québec from the Pierre Lassonde Collection,
Musée national des beaux-arts du Québec October 29, 2015 – May 23, 2016.
Literature:
Paul-Émile Borduas, A Critical Biography, François-Marc Gagnon, McGill Queen University Press, 2013, p. 453-4.
Borduas Lemieux Riopelle: Essays on Three Québec Painters, Gagnon, François-Marc, 2014, p 92-94.
Passion privée L'art moderne du Québec de la collection Pierre Lassonde, Musée national des beaux-arts du Québec, 2015, p. 184-185, illustrated.
Reference:
Paul-Émile Borduas, catalogue raisonné, François-Marc Gagnon, number: 2005-1323.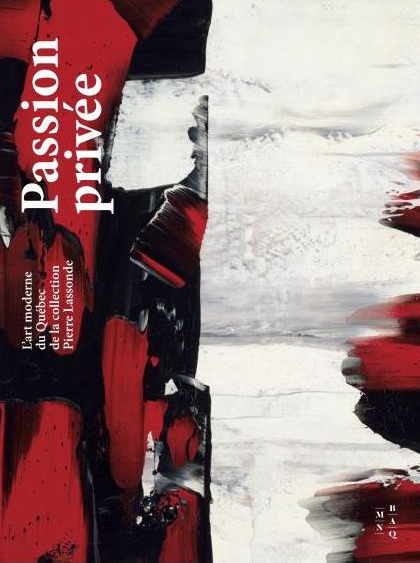 Cover illustration : Passion privée L'art moderne du Québec de la collection Pierre Lassonde
Biography
Paul Emile Borduas (1905-1960) was born on November first, 1905, in Saint-Hilaire, Quebec (a small village 50 kilometers from Montreal). He was the fourth child of Magloire Borduas and Eva Perrault. He received five years of formal elementary school education, (which ended at the age of twelve) and some private lessons from a village resident. Fortuitously, Borduas met Ozias Leduc in the winter of 1921-1922, and Leduc agreed to take the young artist under his wing. At the age of sixteen he became an apprentice to Ozias Leduc, who was a church painter and decorator. Leduc provided Borduas with a basic artistic training, teaching him how to restore and decorate churches. Leduc arranged for Borduas' instruction at the Ecole Technique, in 1919, in Sherbrooke, Qubec. In 1923, assisted by a scholarship Leduc had secured for him, he enrolled in the Ecole des Beaux-Arts in Montreal, continuing to work for Leduc at the same time. He received prizes for his paintings at both of these institutions. Despite discord between Borduas and the school administration, he continued his studies at Leduc's urging..
Upon graduation in 1927 Paul Emile Borduas was hired by the Montreal Catholic School Board as a high school art teacher. In January 1929 he began studies at the Ateliers d'Art Sacre in Paris, which he left to pursue church decoration work of Rambucourt, in the Meuse Valley, with Pierre Dubois in April. He returned to Saint-Hilaire in June 1930 (his funds being depleted), began teaching part-time, and in 1933 returned to teaching high school for the Catholic School Board of Montreal. In 1937 Borduas began teaching at L Ecole du Meuble. This was an important time in Borduas' life: by meeting young men of his own generation with the same tastes and the same need for action, he finally discovered a stimulating intellectual and social environment.
In 1938 he encountered John Lyman, a Montreal painter and critic, at the first exhibition of one of Paul Emile Borduas' paintings. Lyman encouraged Borduas' involvement with the Contemporary Arts Society, and in January 1938 he was elected vice-president of this group. In 1941 he resumed painting after several years of study and teaching, during which time he and a group of students had met regularly to discuss recent trends in European art. His first abstract paintings date from this year, and in April 1942 he exhibited forty-five gouaches inspired by the abstract surrealism. He became increasingly involved with about a dozen of his students, and they became known collectively as the Automatistes for their attempts to paint with pure psychic automatism as per the writings of Andre Breton. In January 1946, the first group exhibit of Borduas and his students was held in New York City, followed in April by an exhibit in Montreal. This was the first exhibit by a group of abstract painters in Canada. A second Montreal exhibit followed in February-March 1947. A critic, responding to this exhibit, coined the name Automatists for the group.
Borduas wrote Refus Global (or Total Refusal) in late 1947- early 1948. It was disseminated in a folder that contained other Automatists' writings. This piece was originally intended to accompany an Automatist show. " Refus Global" served as an important manifesto that denounces the forces of oppression that had made of Quebec a suffocating environment, hostile to both individual and collective creativity.
The manifesto was an important document leading up to the Quiet Revolution in Quebec. Four hundred copies went on sale August 9, 1948. Borduas was dismissed from l'Ecole du Meuble on September 2 as a direct result of his involvement in this social critique. Even those who had tired of the repressive Duplessis regime, and advocated great social changes in Quebec, were reluctant to back Borduas' thorough condemnation of the Catholic Church.
Borduas ostracized penned a reply in his defence, a booklet titled Projections Liberantes. He moved to New York in 1953 stayed until 1955 then moved to Paris where he lived out his last years.
Biography courtesy of: http://en.wikipedia.org/wiki/Paul-%C3%89mile_Borduas